Whiplash scams – wasting doctors time – "compo" bandwagon!
Whiplash fraudsters are clogging GP surgeries and wasting more than one million hours of doctors' time every year, claims new research.
Family doctors see a staggering 116,000 people every month whom they suspect are inventing or exaggerating an injury in order to claim compensation.
Growing numbers of suspicious cases now also mention head, back and psychological injuries to maximise payouts.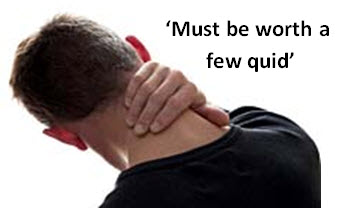 According to the study by LV=car insurance, GPs complain they have too little information to accurately judge if a patient is feigning injuries.
Martin Milliner of LV= said: "The cost of dealing with fraudulent claims pushes up the cost of car insurance and hurts the public purse."
"Another issue where solicitors (licensed to print money) and lawyers end up quids in. Honest 'Joe Blogs' loses again."