Universal Credit Bill Exceeds £700 Million
The Government's flagship Universal Credit has come under fresh attack after MPs said "very little progress" had been achieved though £700 million had been spent on the scheme since it began five years ago.
The Public Accounts Committee said that by October last year fewer than 18,000 people were claiming the credit, which replaces six mean-tested benefits, out of about seven million expected in the long term just 0.3% of the eligible population.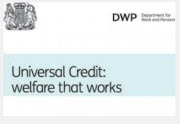 The committee made a series of recommendations, including urging the Department for Work and Pensions (DWP) to set out clearly what it has gained from it's spending so far.
The MPs noted that the DWP had justified spending such large amounts on the promise of future benefits, such as higher employment.
A DWP spokesman said: "Universal Credit" is on track and we are making good progress – almost 64,000 people have made a claim and this time next year UC will be in very Jobcentre in the country. Using existing IT ensures value for money and will save the taxpayer over £2bn."
Jones. A 2015 The Independent 25/02/2015 P. 6
"It would be nice to see the components of the £2bn savings"