Social care: what's in a name?
Katie Mantell at the King's Fund – Social care is all around us. More than 1.5 million people in England are employed to provide social care to older and disabled people. And these numbers are dwarfed by almost 6 million unpaid carers – family members and friends who give up their time to help with a range of tasks, from cooking to personal care.
But despite this, 'social care' is a phrase you don't hear much in everyday life. Last year, when my 94-year-old grandmother's health was deteriorating and she needed support with washing, getting in and out of bed and other day-to-day tasks, I remember noticing that no one in my family used the term social care. Instead, the talk during this difficult time was about 'speaking to the council to get someone in to help Gran', and 'finding a carer who will come around to the house'.
So why don't we use the term social care very much outside of professional circles and the media? And does it matter if we don't?
There are a couple of reasons why it doesn't trip off most people's tongues. First, it is an umbrella term that includes a broad range of activities associated with the tasks of everyday living, and can be replaced with more specific terms such as 'going into a care home' or 'home help'.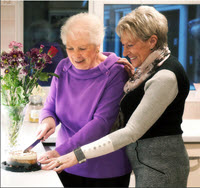 Second, social care doesn't have the recognisable brand that the NHS does, and research suggests that it isn't widely understood. A survey carried out by Britain Thinks for Age UK in 2015 showed that many members of the public 'have never heard of social care… do not understand what it is, what aspects of care it covers, how to access it or how, if at all, the social care system aligns with the NHS'.
Other research also hints at a lack of awareness of social care. In surveys such as those by Ipsos MORI and in the British Social Attitudes survey, when people are asked whether health and care services have improved or about their overall satisfaction with services, the percentage who answer 'don't know' is much higher for questions about social care services than for those about general practice or hospital care.
As my colleague and social care policy expert Richard Humphries reflected at the end of last year: 'A troubled NHS easily commands public attention through visual images of overflowing hospitals and queuing ambulances. But when the social care system is "full", few notice, the consequences scattered silently and invisibly across thousands of homes and families. It makes little noise on the radar of political and public concern.'
In recent months, social care has risen up the political agenda. The crisis in social care – and the injection of funds for social care in the Spring Budget plus the promise of a Green Paper – has given the issue more prominence in national debate. And it seems likely that social care will feature prominently in the general election campaign over the coming weeks.
But it would be easy to assume, from reading news stories alone, that social care was just about older people and hospital discharges. In reality, of course, it is much, much more than that, covering a range of activities to enable people of all ages, with a range of needs, to live their lives to the fullest.
It's not just the public who have a limited knowledge of social care. I'm struck by how many of us working within health have a quite basic understanding.
Last year, our fellow in social care policy, Patrick Hall, gave an overview of social care in a seminar for staff from The King's Fund. We all learnt a lot, and the seed of an idea emerged: could we produce some content for professionals, patients, service users and others that would simply explain what social care is and how it works? After all, making sense of a complex policy environment is one of our organisational goals.
Inspired by some really creative examples, we decided to shoot some short videos as the centrepiece of a package of content explaining social care. As much social care happens in people's homes it felt right to set our videos outside the office environment, and we decided on a kitchen – often central to a home and the place where things are organised and discussed, where food is prepared and cups of tea drunk. We tasked Patrick with using these surroundings to explain, in his own way, what social care is.