School Installs Life Saving Machines For Heart Problem Girls
A family stricken with a potentially deadly heart condition has inspired three schools to instal life-saving defibrillator machines.
Pamela Statham and her daughters Jessica and Frankie all have Long QT syndrome, which scan disrupt heart rhythm.
Pamela and the girls, along with three other members of the  family were diagnosed with the rare disorder after her 10-month-old son Jamie died in his sleep in 2007.
His death was unexplained but Pamela, of Salford, Greater Manchester, believes Jamie may also have had Long QT.
Their plight has led to 12-year-old Jessica's school Buile Hill College, her former school Light Oaks Junior and Frankie's school St John's Primary getting the defibrillators and  first-aid training for staff and pupils.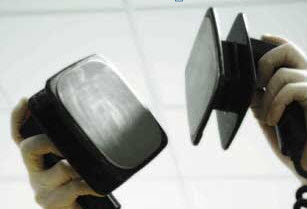 They acted after Pamela put them in touch with local charity Hand On Heart.
Pamela, 40, and her family are treated with heart regulating beta-blockers and have regular scans. But the defibrillators bring extra peace of mind.
Pamela said: "It is amazing knowing that they are safe and have precautions in place should the worst happen. I want a defibrillator at home." Light Oaks Junior School now has another pupil with a cardiac condition, 10 year-old Emma Burns.
She has a hole in the heart, and has undergone open-heart surgery twice.



Her mother Beverley Burns said: "It is wonderful that the school has this training and equipment. It gives me peace of mind."
Eight members of staff have learned how to use the defibrillator and thirty children now have resuscitation and first aid skills taught by Hand ON Heart.
"Let's hope more schools with children with heart conditions consider installing these machines."