NHS Tourists Leave £62m in Unpaid Bills
Health tourists have saddled the NHS with a staggering £62million in unpaid bills.
Sick foreigners swoop into Britain for care and then jet home – leaving the taxpayer to pick up the tab.
One patient racked up a whopping £400,000 bill, while another notched up £15,000 in care costs for booze addiction.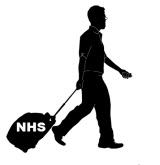 And one London hospital alone – King's College – was left with an £18million debt after foreign patients checked out without clearing their tab.
Bosses admit a soft-touch policy is luring health scroungers to Britain. However, new rules could help recoup up to £500million a year by 2017-18.
A Department of Health spokesman said: "We want international visitors to feel welcome to use the NHS provided they pay for it – just as families in the UK do through their taxes."
Bosses at Norfolk and Norwich University Hospital pursued one women in Zimbabwe over an unpaid £3,000 bill.



Caroline Nyadzayo,34, and her baby were snapped in 2013 with health minister David Poulter.
Farrell. J 2013. Daily Star 16/03/2015 P. 2
"Our NHS – some 'business model'!!"