New NHS Reforms – Healthcare Changes for 5 Million People
NHS REFORMS are considered necessary both for modernisation and to cut costs. NHS England hopes to save £22bn by 2020.
Five million people in England will have their local NHS services transformed in the first wave of radical reforms aimed at preparing the health service for the burden of an ageing population.
Pilot schemes in 29 areas will involve three entirely new "care models" rolled out. In some areas it will mean GPs working more closely with hospitals and local councils, while patients in other parts of the country will have specialist services like chemotherapy and dialysis provided outside of hospital, closer to their homes.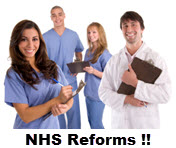 NHS England chief executive Simon Stevens said the "vanguard" areas would bring about changes from the bottom up, led by "frontline" NHS staff.
The reforms, part of Mr Stevens's five-year plan for the NHS, which has the backing of the three main political parties, have been widely welcomed. However, they represent another significant reorganisation of the health service only two years after Andrew Lansley's controversial overhaul disruption.
Mr Stevens said last night the latest changes were of a different order, adding that despite change being needed "for quite some time" the NHS now had "no choice".
The changes will be supported by a £200 million transformation fund. Following the publication of Mr Stevens's five year plan, 269 different local plans were submitted, of which 29 have now been chosen to pilot new ways of working, starting next month.
The announcement follows a landmark decision to hand over £5bn in NHS spending to a joint local council and NHS authority in Greater Manchester – dubbed 'DevoManc'.
However, Mr Stevens denied the new localised plans would "Balkanise" the NHS. "The NHS will continue to be nationally tax-funded, accountable to the elected government of the day who will set priorities for the NHS, but the reality is that right now the way care is provided in Gateshead is different to the way care is providede in Sutton," he said. "The route to improvement to meet those standards and deal with the different parts of the country will be different."
The Health Secretary, Jeremy Hunt, called it a "pivotal moment for the NHS".
A core aim of the reforms is to break down the traditional barriers that have existed between GPs, hospitals and council-funded social care services.
Patient Outlook
The reforms will bring about three new kinds of local NHS systems:
Integrated primary and acute care systems
(Pacs) will see GP, hospital, community and mental-health services joined up. For example, in Yeovil the local hospital will be joining forces with local GPs to control a single budget, with money directed to parts of the health system where they judge patients need it most.
Multispeciality community providers
(MCPs) will bring specialist services, such as chemotherapy for cancer patients and dialysis for patients with Kidney failure, out of the hospital and closer to people's homes in parts of the country where this is considered useful for patients.
Models of enhanced health in care homes
This will see the NHS and councils work together to provide more health care in care homes, and also better preventive services in the home.
Vanguard areas where the new models of NHS care will be tested include:
Pacs
Wirral Health and Social Care Economy
Northumbria Healthcare NHS Trust
Salford Royal Foundation Trust
Harrogate and Rural District CCG
MCPs
Fylde Coast Local Health Economy
Calderhale Health and Social Care Economy
West Wakefield and Wellbeing
Sunderland CCG and Sunderland City Council
Care Homes
Airedale NHS FT
NHS Wakefield CCG
NHS Gateshead CCG
Nottingham City CCG
East and North Hertfordshire Clinical Commissioning Group
Sutton CCG
Cooper. C 2015 The Independent Daily Briefing 11/03/2015 P. 4
"We can only wait and see if this 'changes the way care is provided to patients'. Alas, preparing the health service for the burden of an ageing population should have started years ago. "