New help for employers looking to diversify their workforce
See Potential is backed by over 100 progressive employers like KPMG, Eversheds and Tesco and endorsed by the CBI, FSB and IOD. Their CEOs are encouraging other Employers to review their recruitment practices and sample the business benefits of more open-minded recruitment.
What is See Potential?
See Potential is an employment campaign, backed by business people like Sir Richard Branson, Deborah Meaden and Simon Cowell, showcasing the talents and business benefits of hiring people from disadvantaged groups. These can include the long-term unemployed, ex-offenders, care leavers, recovering addicts, homeless people and single parents. The campaign seeks to challenge negative perceptions and attitudes towards candidates from these groups and encourage employers to recruit more of them. See Potential celebrates the work of employers who provide jobs and training opportunities to people from disadvantaged groups, showing other businesses why it's worth their while reviewing their recruitment practices. We use real-life testimony from individuals and employers to illustrate the personal, societal and business benefits of giving people a chance in the world of work.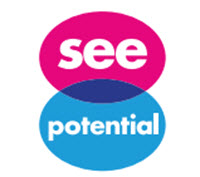 Who supports the campaign?
Sir Richard Branson, Deborah Meaden and Simon Cowell are See Potential ambassadors and the campaign now has the backing of more than 100 employer organisations. They include well-known brands, like Tesco, Marks & Spencer, Costa Coffee, National Grid, BAE Systems, Eversheds, Admiral, Fujitsu, Marriott, Carillion, Hyundai, Virgin and EY, as well as growing numbers of SMEs. They all have open recruitment policies and are leading the way with their more inclusive approach to finding fresh talent. See Potential is endorsed by the Confederation of British Industry (CBI), Federation of Small Businesses (FSB), Chartered Institute of Personnel and Development (CIPD), Institute of Directors (IOD), The Prince's Trust, The Big Issue, Business in the Community (BITC), Nacro and many others. They all believe businesses should double their efforts to tap into the valuable skills, energy and insight that candidates from disadvantaged groups can bring to businesses.
What are the benefits?
Evidence suggests that people from disadvantaged groups can become some of your best employees. They go the extra mile to secure results, tend to stay in a job for longer, have a strong commitment to their employer and lower rates of absenteeism. BITC research shows clear business benefits in becoming more inclusive, with over 90 per cent of businesses saying it's been advantageous and 92 per cent saying it's enhanced their reputation. Two thirds report that it has boosted skills levels across their workforce and around half say it's even benefited them financially. See Potential is also about taking pride in being socially responsible. Six million of us will be homeless at some point in our lives. Ninety-seven per cent of homeless people want to work*, but a recent survey** indicates that only 7% of employers say they recruit homeless people. Giving people from disadvantaged groups a chance can help get their lives back on track. It is not only good for individuals but also for society. For instance, employment is proven to reduce re-offending by 33-50% .
More information about The See Potential Campaign
So, becoming more representative of the communities you serve doesn't just help change lives – it can help strengthen your business and have huge benefits to society too