Mobility scooter drink drivers fined – Same town!!
Two disabled men have ben fined for being drunk at the wheel of their mobility scooters after they were stopped just two hours apart in the same town.
Lyndon Prewett, 49, ripped two drainpipes of the wall with his blue scooter after first bashing into dustbins. A court was told he was driving so erratically he almost tipped over and was found "drunk and swearing" after losing control.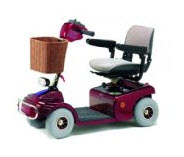 Would you like to be run over by this?
Shane Darch, 38, was stopped two miles away nearly hitting a car at 10pm the same night. He also had a knife.
The men, both of Hucknall, Notts, were each fined £35 by Nottingham magistrates after pleading guilty to being "drunk in charge of a carriage in a public place".
They were ordered to pay court  charge of £150 and £180 respectively, plus victim surcharges. Darch was also given a six-week-suspended sentence for carrying the knife
They had to prosecute them for being drunk in charge of a powered carriage, which was a law made before they had road motor vehicles.
'The offence falls outside the normal drink drive laws and that leaves us with a very old provision from 1872, which is part of the Licensing Act.'
" They should have been banned from driving anything.  Even if you drive a mobility scooter you can still have a driving licence. They could have come straight out of court (if they had to attend) and drive a car off !"