Ignoring Cancer Warning Signs and 'NOT' Visiting Your GP?
People are ignoring cancer warning signs because they worry about wasting their doctor's time, a study found.
Patients displaying so-called "red flag" symptoms are routinely putting off visiting their GP.
Others avoid getting checked out because they fear a cancer diagnosis.
The "alarming" findings also suggest too many Britons adopt a stiff upper lip, lack confidence in the healthcare system, or think their problem is down to ageing.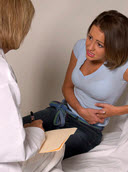 Other believe their symptoms will simply go away if left alone, the Cancer Research UK study found.
Dr Katriina Whitaker, a research fellow at University College London, said: "Many of the people we interviewed had red flag symptoms but felt these were trivial and didn't need medical attention, particularly if they were painless or intermittent.



"Others felt they shouldn't make a fuss or waste valuable NHS resources. The stiff-upper-lip stoicism of some who decided not to go to their doctor was alarming because they put up with often debilitating symptoms."
More than 1,700 people aged 50 and over were sent a health survey featuring symptoms typical of cancer – such as a persistent cough or change in bowel habits – and asked to decide whether or not they would seek medical help. The survey specifically did not mention cancer, but incorporated a list of 17 typical symptoms.
More than half of those surveyed reported as having at least one symptom in the past three months. But further interviews suggested almost half of them had not consulted their GP about their symptoms.
One woman with persistent abdominal pain did not go for a recommended test. She said: "At times I thought it was bad, but when it kind of fades away, you know, it doesn't seem worth pursuing really."
Dr Richard Roope, of Cancer Research UK, said: "The advice we give is: If in doubt, check it out – this would not be wasting your GPs time.



"Often your symptoms won't be caused by cancer, but if they are, the quicker the diagnosis, the better the  outcome.
"Seeking prompt advice from your GP about symptoms, either on the phone or during an appointment, could be a life-saver, whatever your age."
The findings are published in the British journal of General Practice.