"I will never stop doing this!" – A Turn2us Volunteer
Meet Turn2us volunteer, Jean Quayle.
Volunteer Visitors play a crucial role in helping Turn2us support our grant recipients as much as possible. We take so much pride in our incredible army of Volunteers, many of whom have been with us for a very long time.
Jean Quayle, a Volunteer Visitor based in Cheshire, is among our most active Volunteers and has been so for over fifteen years. To imagine how much good she has done in this time is no mean feat, so we caught up with her recently: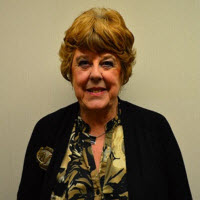 "I was worried I would be bored once I stopped working, so I was looking for something to do. I knew the matron at Hampden House, the Elizabeth Finn Care Home, and she told me about what Turn2us does and that you needed volunteers.
"We visit people who have fallen on hard times – lots of people can suddenly have nothing through no fault of their own; it could happen to any of us. We see if their circumstances have changed annually and help inform the Turn2us Grants team with as much information as possible so that they can support these people as well as possible. We're on the frontline – and to help these people is incredibly satisfying.
"There's one individual I have visited in particular who springs to mind. I've been visiting this person for over ten years and the change has been incredible. The first time I visited they really did have nothing and had completely fallen on hard times.
"Over the years, their situation has improved and they're in a simple but much nicer property now. They put this all down to the timely support that Turn2us have provided. Most importantly, they are happy now and that's the biggest difference. To be involved in that has been a highlight for me.
"I love it and would recommend it if someone was thinking of getting involved. I do visit fewer people than I did at one point and I would mention that it can take some time to accumulate lots of people to visit. But I will never stop doing this. I love driving too, so that helps!"
Jean has visited over one hundred grant recipients multiple times since she first started her incredible work with us. She is one of many inspirational volunteers across the UK whose support we are so privileged to have.
Find out about becoming a Turn2us Volunteer Visitor