How Elder are Providing Live-in Care as an Alternative to The Traditional Care Home
Caring for an elderly relative can often place emotional and physical distress on a family member, especially if they are living with a serious health condition, such as dementia.
Not only will a family member want to provide their loved one with the highest quality of care, but they will also, more than likely, need to juggle family life and their professional career. Many families therefore often turn to traditional care homes, because they believe they can no longer provide an adequate level of care for a loved one.

The thought of moving an elderly resident from the comfort of their home and into a care home is bound to be upsetting, but many families may believe they have no other option. However, there is an alternative that can ensure a loved one can remain within the comfort of their home and receive 24-hour care.
One of the UK's leading live-in care providers, Elder, can provide experienced, qualified live-in carers who can be with an elderly relative in as little as 24 hours. The carer will live in the client's spare bedroom, providing around the clock care. What's more, a carer and the elderly person will be matched on their mutual interests, so they can form a companionship, which will help to keep loneliness at bay.
Not only will an elderly person feel safe in the knowledge that a carer is on-hand each day within their home, but they will also be able to enjoy the company of their pets, if they have any, which are often banned in many traditional care homes.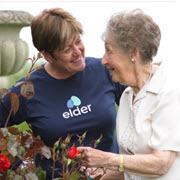 With one in five care homes failing standards, the traditional care home has become an increasingly big concern for those looking at care alternatives, with many families worried about the treatment their loved ones may receive outside of their home. While not all traditional care homes are the same, many family members are now turning to live-in care alternatives to ensure their relatives receive the individual care they need to improve their quality of life.
The last census reported that 290,000 elderly people are currently living in a traditional care home, with only 10,000 people using home care services. However, with the quality of the traditional home care being called into question, the live-in care figures are expected to rise, with more families wanting to ensure their loved one can receive high-quality care in their familiar surroundings.
It's not just family members that are looking for live-in carers, because many home care providers are currently seeking dedicated carers to join their team, with the aim of providing exceptional elderly care across the country. The role could be ideal for those looking for a change in lifestyle or career, as they will live in a person's home and make a big difference to both the client and their family's lives every day.
Nothing can be more upsetting than the thought of a loved one's health deteriorating, but live-in care providers can ensure a relative is well cared for each day, so a family member can have some peace of mind that a loved one is safe and content from within the comfort of their own home.