Golfer Found Guilty of Fraud – Falsely Claimed Disability Benefits
A golfer claimed disability benefits while winning club tournaments, a court heard yesterday.
Alan Bannister, 56, claimed he was in constant pain, struggled to get dressed and took 15 minutes to walk 50 yards.
But after a tip-off, Bannister was secretly filmed launching a 240 yard drive from the first tee and walking towards the 18th hole four hours later.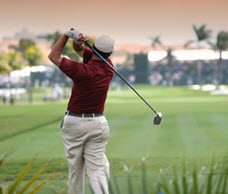 The former mechanical engineer drove to his twice-weekly games in a car provided by the Motability scheme.
Bannister of Barry, Vale of Glamorgan, was found guilty of fraud at Cardiff Crown Court and will be sentenced on March 24.
The Daily Star, 6th February 2015. p. 8
"And they say 'golf spoils a good walk' !"