Golfer Cheats £26K from DWP but gets 6 Months Jail
Victoria Austin reports in the Daily Star, today, that a man who pocketed £26,000 in disability benefits while winning golf tournaments has been jailed for six months.
Alan Bannister exaggerated his arthritis for eight years and was given top-rate payouts reserved for people unable to walk, a court heard.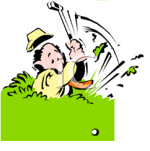 The former mechanical engineer, 56, claimed he could not hold a saucepan or peel potatoes, and said it took him 15 minutes to walk 50 metres. But secret footage was taken of Bannister lifting a bag of clubs before launching a 240-yard drive from the first tee and approaching the 18th hole four hours later.
Bannister, of Barry, was found guilty of obtaining money transfers by deception at Cardiff Crown Court.
Jailing Bannister yesterday, Recorder David Miller described his actions as a "blatant" fraud.
"Mr Bannister has justifiably been driven into the 'rough'"