Fury as Fund Cuts Six Breast Cancer Drugs
Six breast cancer drugs are to be made unavailable to NHS patients – sparking furious condemnation from campaigners, patients and doctors.
Thousands of women in advanced stages of the disease are set to be denied the "last chance" medication that can give them extra months with their loved ones.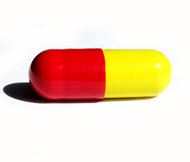 The drugs are being taken off an approved list by the Cancer Drugs Fund, which was set up in 2011 to give patients access to medication banned on the NHS by NICE, the drug rationing body.
One in six patients treated through the fund has advanced breast cancer. However it is understood that eribulin, Avastin,  Kadcyla, Afinitor, Tyverb and Perjeta have been deemed to offer 'insufficient value for money' for treating the disease.
Some 2,000 women have received eribulin since it was approved in 2012, and trial data shows the drug extends life by almost five months on average. It costs around £10,000 for a six-month course.
Oncology professor Chris Twelves, from the University of Leeds, said the decision came 'out of the blue', adding that eribulin 'is standard treatment' in guidelines from all the leading cancer bodies.
A Breast Cancer Care spokesman said it would be 'soul-destroying' for patients to be denied the drug because of cost.
Other cancer drugs have also been axed, with full details to be released next week. Some drug companies have been told they must agree by Monday to cut their prices if they want their products reprieved.
"It's sad when cost dictates if you will have a few more precious months to spend with a loved one"