Free tattoo removal costs NHS £350,000
More than 2,000 people have been given laser treatment after having second thoughts about their body "art".
And last night MPs branded it a "sheer waste" at a time when many hospitals are working at full stretch to provide a good service.
Tattoo removal is not available automatically on the NHS, but doctors can arrange it if the inkings cause patients "significant distress". Four in ten people say they regret having a tattoo and one in six hates them enough to want them removed.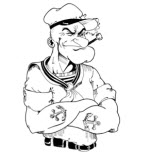 The number of licensed tattoo parlours has soared over the past decade, as football and showbiz celebrities have made the designs seem trendy.
Figures obtained under the freedom of information laws show 2,016 people had tattoos removed on the NHS since 2010 at a cost of £330,182.
But the total cost is likely to be higher as many trusts do not have statistical breakdowns giving the reasons for laser treatments. The cost can range from £150 for a small tattoo up to more than £1.000.



Shadow health secretary Andrew Gwynne said: "People will struggle to see how this sheer waste of precious NHS money can be justified when hospitals do not have enough staff.
"Patient care is already heading downhill and more nurses could be lost under Tory spending cuts."
NHS England said: "Tattoo removal is only ever available where a GP and a specialist agree a person's tattoo is causing them significant distress or serious mental health issues."
Wooding. D 2015 The Sun on Sumday 22nd March 2015 P.13
"Any guesses at how much the £350,000 is underestimated?"