Foreign Patients Using the NHS – A Crackdown – Long Overdue
Foreign patients will have to prove they are entitled to free NHS care in a clampdown on health tourism.
In order to register with a GP, EU nationals will be required to show their European Health Insurance Card.
The UK has,  until now, been far less efficient than other countries in reclaiming the money owed by treating foreign citizens. As a result, the NHS is losing an estimated £400million a year simply simply because it is failing to identify EU patients and claw back the cost of treatment from their governments.
A scheme at GP surgeries will begin the process of redressing the balance and could eventually be extended to cover patients from other parts of the world in a bid to save the NHS an estimated £2billion a year.
Receptionists will for the first time ask all new patients from European counties to show their European Health Insurance Card (EHIC) otherwise they will be barred from registering. This will allow the NHS to flag up patients whose countries should be paying for treatment, paticularly if they go on to be seen in hospital.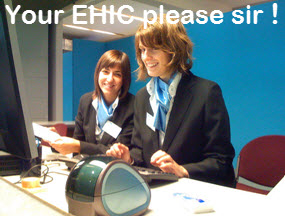 Under an EU agreement, citizens can be treated free of charge in other countries as long as their government repays the cost. But the UK claws back only £1 for every £15 we pay for Britons to be treated abroad. Last year Government managed to collect £50million from EU countries but paid out £750million. A pilot scheme due to begin later this year is the first stage of an ambitious plan to recoup the cost of treating overseas patients.
The Department of Health is asking for ten practices to sign up. Receptionists will ask all new patients from the EU – including British citizens – to present their EHIC card when registering with the surgery.
Many British patients have these cards but they do not they should be able to use their passport  or other form of identity as proof they are entitled to NHS care.
Patients from  other EU counties will be recorded on a computer system so that NHS officials can compile a bill for the costs of their GP appointment and any further treatment.
Currently, certain NHS services, including GP appointments, A&E, maternity and any treatment deemed urgent or life-threatening – are free for everyone. But overseas  patients – which include anyone who has lived here for less than 12 months – are meant to pay for all other hospital treatment such as x-rays, consultations and operations. In reality, however, staff rarely recover these costs at present.
GPs are being used to identify those from whom cash can be reclaimed because they are the gateway to the NHS for most patients.



Some senior GPs criticised the move, suggesting it would turn them into debt collectors and may prevent seriously foreign patients from seeking help.
Borland. S 2015. Daily Mail 05.02.2015  p 1.
"It beggars belief that these issues were not addressed years ago. Our nation is broke, and can't afford to look after it's own citizens, never mind foreigners. The ineptitude of this and previous administrations is criminal. The people at the top will always stay snug and cosy while the general population watch their health and welfare systems disintegrate. In fact, this nations infrastructure has always been geared to protect those who have, not those who haven't."