First Disabled Referee – 19 Year Old Wheelchair User
Football mad Nathan Mattick has given his disability the red card and become the first wheelchair-user referee.
The 19 year-old was born with cerebal palsy which left him unable to walk.
But he vowed not to let the condition get in the way of his dream to blow the whistle on the football pitch. His hard work has seen him become Britain's first official ref in a wheelchair – and he now regularly takes charge of games for both able-bodied and disabled players.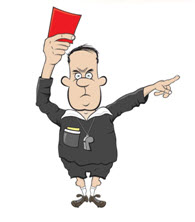 Nathan, from Cheltenham, Glos, dashes about the pitch in all weathers in his electric chair.
He said: "I was so nervous the first time I refereed at a game.
"I thought the players and managers would give me a hard time because I was in a chair and that they would question why I was refereeing  able-bodied football.
"But I had no problems. People with disabilities can do what able-bodied people do. We just do it in a different way.
"I have cerebral palsy but that doesn't mean I can't do things.
It's important you respect every single person whether they have a disability or not. We can all contribute to this world."



Steve Tanner, referee development officer for Gloucestershire FA where Nathan did his ref's exams, praised his skills.
He said: "We are delighted to be able to support Nathan in achieving his dream of refereeing."
"It's brilliant how you've broken down barriers and trailblazed to your goal. Well done Nathan"
Farrel. C. 2015. Daily Star 24th Jan 2015, p. 22.