Damning Report on GP Access for Disabled People
Deaf Brits are being told they can book a GP appointments only by phone, a damning report claims.
And a blind patient was sent medical letters by his family doctor that he could not see to read.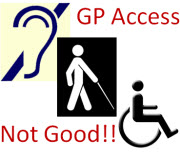 The report by patient watchdog Healthwatch England reveals many disabled Brits struggle to access GPs and dentists.
Two in three GP surgeries in Luton have no provision for wheelchairs.
Watchdog the Care Quality Commission called the findings "worrying".
"It's quite upsetting seeing our nation go backwards over a couple of generations now. Worse still, with major issues everywhere, there's nothing in place to stop it getting worse, in real terms, for most of us."