Autistic children being subjected to 'mate crime'
Sarah Cassidy writes in The Independent – Children with Asperger's syndrome and autism are being bullied, abused and even robbed by people they think are their friends, according to a study revealing the horrific extent of so-called "mate crime".
A staggeringly high number of people with autism and Asperger's syndrome are subjected to mate crime, a form of disability hate crime in which a vulnerable person is manipulated or abused by someone they believed to be their friend, a survey by an autism charity found.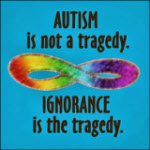 The research uncovered heartbreaking stories of abuse – including one vulnerable young person who was tricked into giving his debit card and pin number to a so-called friend who then used it to run up huge bills.
The parents of one 17-year-old told researchers how their daughter was robbed of her IPod and phone by classmates at school – and now had a boyfriend who "always turns up when it is her payday for her DLA".
A parent of a 14-year-old boy who responded to the survey said, "My son is absolutely harmless and extremely vulnerable. It is so hard explaining that people are making fun of him."
The report was based on an online survey of nearly 150 people with autism or Asperger's syndrome or their carers conducted by Wirral Autistic Society earlier this year.
Robin Bush, chief executive of the society, said: "Mate crime is morally reprehensible and these people are cowards. People with autism struggle enough with the complexities of daily life without having to live in fear that people who pretend to be their friends will steal from them, assault them or encourage them to commit crimes on their behalf."
The report found that 80 per cent of respondents over the age of 16 felt they had been bullied or taken advantage of by someone they had thought was a friend. This compares to a figure of 49 per cent when the National Autistic Society asked the same question of over-18s in a nationwide survey last year.
The most vulnerable age group was 16 to 25, while eight out of ten said that fear of bullying had led them to turn down social opportunities.
"People who scheme and bully for self-gratification should crawl under a stone and stay there"