Are your bills higher than average?
How much are the average water, energy and council tax bills?
In the last few years, bills of all sorts have risen sharply. Since 1989, water bills have risen above inflation by over 40%; energy bills have gone up by 10% in the last 12 months alone; and some local authorities can increase their council tax bills by up to 5.99% this year.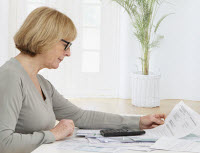 However, while bills rise, many people are still over paying. Find out what the average bills in the UK and see if you are entitled to cut your costs.
Water
The average household will pay £405 a year for their water and sewage services.
Water bills are expected to rise by 2% – £9 – for the 2018/2019 year. However, this does vary region by region across the UK.
Those living in the South East will find their average bill about £14 cheaper, while those living in the North West may be paying £18 more.
Find out what help is available with water bills
Energy
The average small household will pay £795 a year
The average medium household will pay £1,163 a year
The average large household will pay £1,639 a year
The average variable tariff is around £1,135 a year.
A small household has one or two bedrooms; a medium house has three; and a large house has four or more.
Often switching supplier is the simplest way to cut down your energy bill; and there are a range of schemes, safeguarding tariffs and other help available.
Find out what help is available with energy bills
Council Tax bills
Average band A is £1,061 a year
Average band B is £1,237 a year
Average band C is £1,414 a year
Average band D is £1,591 a year
Average band E is £1,945 a year
Average band F is £2,298 a year
Average band G is £2,652 a year
Average band H is £3,182 a year
While Council Tax bills vary considerably, millions should expect their bills to increase by £100 in 2018/2019, as 93% of councils plan to put up fees.
Additionally, other council services, such as burials and parking permits, are also expected to increase in cost.
Find out what help is available with Council Tax bills
Internet costs
The average broadband yearly bill is £336.12.
Using comparison sites is a quick and easy way to see if there are better prices available.
It is also worth checking you aren't paying for more than you need. Are you paying for unlimited download usage when you use a lot less? It is always worth checking to compare.
Sources: