Anger as fat people are denied ops by NHS
Overweight patients are being denied routine treatment by four out of five clinical groups in England, an investigation has found.
Procedures including IVF, hip replacements and even hair removal are refused if the patient is seen as too fat.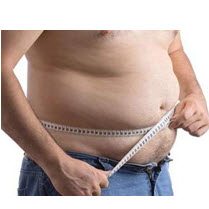 Belly – 'do not treat'
Herts Valleys Clinical Commissioning Group has banned all non-emergency ops, for anyone with a BMI, or weight-to-height index, of 35 or more – deemed severely obese.
Smokers are also denied some treatments by two in three providers according to figures obtained by GP magazine.



Dr Richard Vautrey, of the BMA's GPs Committee, warned: "If it's purely cost-saving, it's not ethical."
A Department of Health spokesman said: "Blanket restrictions are unacceptable. Decisions should be based on individual clinical needs.
McDermott N. 2015 The Sun 07/03/2015 P. 29
"This has been going on for a long time, but with the pressure on the NHS can it be stopped?"